Radial Shock Wave Therapy
What is Radial Shock WaveTherapy?
Extracorporeal Shock Wave Therapy (ESWT) is the application of Shock Waves in medicine that, when applied to injured tissues, stimulate metabolic reactions:

Reduction of pain felt by nerve fibers
Increase of blood circulation in surrounding soft tissues
Beginning of healing process triggered by stem cells activation
What are the mechanisms of actions of shockwaves?
The therapeutic effects of shock waves on the musculoskeletal system (pain relief and healing) are based on a multitude of molecular and cellular mechanisms. Without going into detail, the main short-term effects are depletion of presynaptic substance P in C nerve fibers (resulting in pain relief) and improved blood circulation in the treated area (which is the basis for healing). The main long-term effects are blockade of neurogenic inflammation and improved tendon gliding ability (resulting in pain relief) as well as activation of mesenchymal stem cells and new bone formation (both essentially involved in healing).
What can be treated with Radial Shockwave?
Feet - Plantar fasciitis, Achilles Tendinopathy
Elbow - Tennis Elbow or Golfer's elbow
Shoulder - Calcific Rotator Cuff tendonosis/tendonitis
Knee - Patellar Tendonitis (Jumper's knee)
Others: shin splints, scar tissue treatment, hamstring tendinopathy, stress fractures, trigger points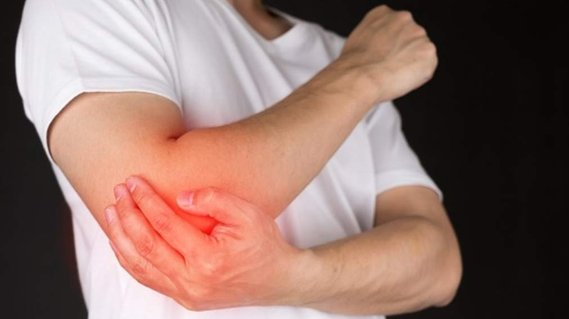 How many sessions will I need?
Most of the clinical studies proved the efficacy of the Swiss Dolorclast Method with 3 sessions. Nevertheless, there is no contraindication to add more sessions as long as the patient's condition improves. In most cases you should not go over 8 to 10 sessions
Does Shock Wave hurt?
Kinda. It should not hurt but should be uncomfortable (VAS score < 7).
How do I know if Shock Wave is right for me?
If you answer YES to any of the questions below, you may be a candidate for Radial Shockwave:
Do you have pain in your heel, elbow, knee, shins, feet or shoulder?
Have you been diagnosed with Lateral/Medial Epicondylitis (tennis or golfers elbow), Rotator cuff tendinosis or calcification, Shin splints, Patellar tendonitis, Achilles tendonitis, Plantar fasciitis or Hallux Rigidus (stiff big toe).
Has your pain been present longer than 3-6 months?
Have you tried other treatments including but not limited to physiotherapy, massage or chiropractic and these treatments failed to resolve your pain?
In order to qualify for Radial Shockwave you must also answer NO to any of the following questions:
Have you had a cortisone injection in the past 30 days?
Do you have any bleeding disorders or blood circulation disturbances?
Do you have cancer that is not in remission?
If female, are you pregnant?

Ultimately only after an assessment by a qualified professional can it be determined if Radial Shockwave Therapy is the right treatment for your condition.

Does insurance cover Shock Wave?
As your injury will be assessed by a registered physical therapist and as the Radial Shockwave is performed by a physical therapist at our facility, the procedure is considered physical therapy and should therefore be covered by third party physical therapy insurance coverage. *note-WCB and AHS does not cover Shock Wave.
Do you have proof that this treatment works?
Yes, being clinically proven is one of the pillars of the Swiss Dolorclast method. Many randomized controlled trials (RCTs) demonstrating efficacy and safety of the Swiss Dolorclast method on different indications have been published in the international peer-review literature. So far, 26RCTs have been published on the Swiss Dolorclast method, 15 of which have been listed in the PEDro database (search for "radial shock wave" at www.pedro.org.au).